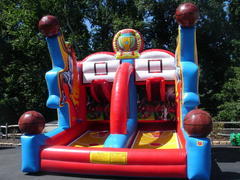 Shooting Stars

Setup Area: 22' x 21'




This inflatable basketball game, Shooting Stars, will have participants offering up their best shots. The first player to get rid of all their basketballs rules this inflatable court. This spirited inflatable game features full basketball court imaging, along with three-dimensional players and basketballs, sure to attract all guest and future NBA stars!

Dimensions: Length 16'6" x Width 15'6" x Height 16'6"