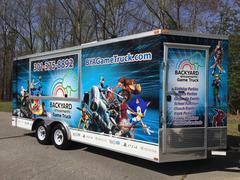 BYA Game Truck

Actual Size: 68' x 8' x 13'
Setup Area: 8 - 10 Car Length Spaces Pickup Truck will not disconnect from Game Trailer
Outlets: 0
Age Group: 4 & up Children under 7 must be accompanied by an adult 18 years or older at all times
Monitors: 2

Item unavailable online. Call to check availability


Our mobile game truck and our "game"ologist will pull up to your event location and provide you and your guest with an unforgettable, ultimate gaming experience. Booking our mobile game truck will offer unique entertainment for kid, teen and adult parties. Play your favorite games on (6) 50 inch T.V.'s as you and your guest listen to your favorite music on the game truck's 1500 watt stereo system. And yes it is a climate controlled environment. The game truck accommodates up to 24 gamers at once. It will make a great addition to any birthday or backyard party, school, church or corporate function.

BYA Game Truck consoles:

4 - XBOX ONE

2 - PlayStation 4

2 - XBOX 360

PlayStation 3

Wii U

Click here to visit the BYA Game Truck Website **SPECIAL RATE** applies to private (small) events that end before 12:30 pm
**Minimum 2 hour rental**
** 15 Mile Free Delivery Radius**
**Special Price Does Not Apply to Corporate/Public Events**

**Special Price can not be combined with any additional offers/discounts**

**INTERNET INTERACTIONS NOT RATED
| | | |
| --- | --- | --- |
| HOURS | RENTAL RATE | SPECIAL RATE |
| 0 - 2 | $320.00 | $290.00 |
| 3 | $475.00 | $445.00 |
| 4 | $630.00 | $600.00 |
| 5 | $785.00 | $755.00 |
| 6 | $940.00 | - |
| 7 | $1095.00 | - |
| 8 | $1,250.00 | - |
**SPECIAL RATE** applies to private (small) events that end before 12:30 pm
**Minimum 2 hour rental**
** 15 Mile Free Delivery Radius**
**Special Price Does Not Apply to Corporate/Public Events**
**Special Price can not be combined with any additional offers/discounts**
**INTERNET INTERACTIONS NOT RATED
ACTIVE GAMER SPECIAL
RENT THE BYA GAME TRUCK AND GET ANY:
MOON BOUNCE (PRICED $160 - $175) FOR
$120
COMBO BOUNCER (PRICED $225 - $265) FOR
$199
COMBO BOUNCER (PRICED $270 - $305) FOR
$250
MOON BOUNCE/COMBO DELIVERY CHARGE APPLICABLE IN ADDITION TO GAME TRUCK TRAVEL FEE
GAME TRUCK FREE DELIVERY RADIUS 15 MILES
MOON BOUNCE/COMBO WILL BE DELIVERED BETWEEN 8:00 AM – 12:30 PM
MOON BOUNCE/COMBO PICK UP BETWEEN 6:00 PM – 7:00 PM
GAMER SPECIAL NOT VALID FOR WET INFLATABLES
GAMER SPECIAL CAN NOT BE APPLIED TO COMBO C7 MAX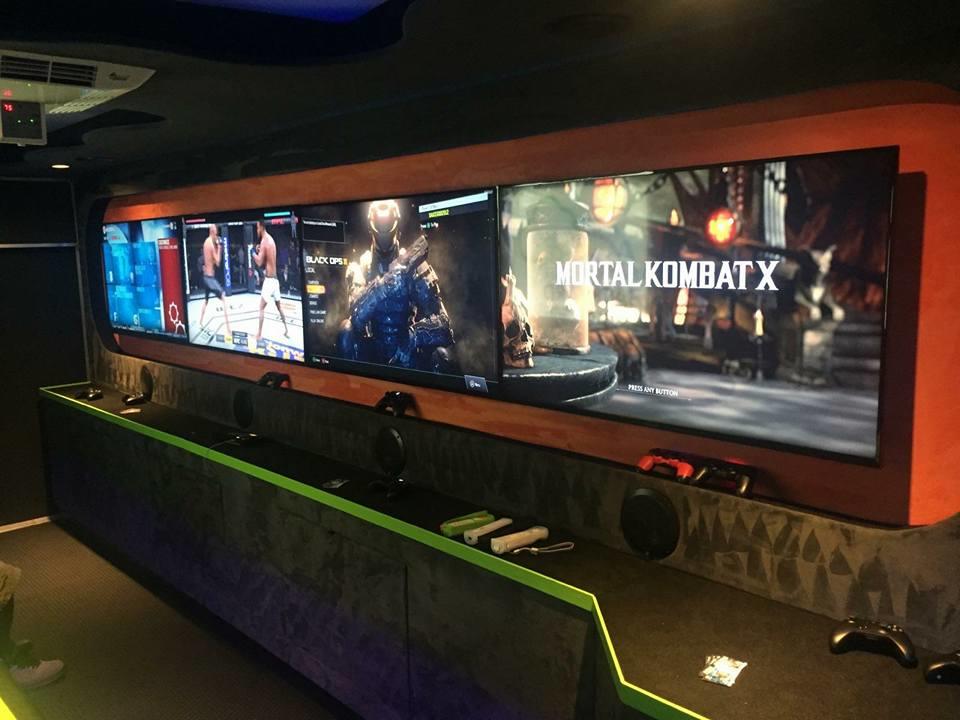 RESERVATION:
A deposit of at least $100.00 is required to confirm a reservation. We accept Visa, MasterCard, Discover or American Express. ALL DEPOSITS ARE FINAL. ALL MONEY PAID AT THE TIME OF BOOKING WILL BE CONSIDERED AS THE DEPOSIT AND IS NONREFUNDABLE.
CANCELLATION POLICY:
ALL DEPOSITS ARE FINAL. I UNDERSTAND THAT ANY MONEY PAID AT THE TIME OF BOOKING WILL BE CONSIDERED AS MY DEPOSIT AND IS NONREFUNDABLE. However, if it becomes necessary to cancel your reservation, deposits are good for one year from the time of booking. Backyard Amusements, LLC reserves the right to refuse to complete any event that has the potential to cause damage to its equipment or, in its opinion, may pose undue risk to our staff or others in the immediate area.
LOCATION:
When the truck pulls up, the customer is required to provide a relatively flat, safe area for the Mobile Game Truck to park. Street fronts are preferable. You might want to let your neighbors know (in case they may object) or let us know if you have a preferred spot for us. Our truck and trailer combination is very long and we will need a minimum of 65 feet of space to park with adequate room to maneuver into the spot. If you do not have enough space, we recommend that you contact your local church or recreation center to have your party/event there. We might also have to block a driveway. We will only park on solid concrete/asphalt/gravel areas. We will park in driveways only if we can do so safely. Additionally our employees will never disconnect the truck from the trailer at a party/event nor park off of a hardened surface. **Please keep in mind that our employees will not park anywhere that may cause a danger to persons, property, equipment or impede the flow of traffic.
If the location is deemed unsafe for the customers, players or other guests at time of arrival, we will request an alternative location be provided. If an alternative location cannot be found, we will allow the event to be rescheduled, but a $100.00 fee will be assessed.
SUPERVISED CHILDREN:
We provide a knowledgeable Game"ologist" who will assist your guest; however, the BYA Game Truck requires a parent or responsible adult to be present inside or just outside of the game truck at all times.
DAMAGE/INJURY:
The BYA Game Truck and/or any of its employees will not be responsible for any damage to property resulting from a request by the client to position the BYA Game Truck in a specific location. This includes both above ground and below ground property/equipment damage. Additionally, the BYA Game Truck and/or its employees WILL NOT assume responsibility for any injuries sustained on the client's property or their designated location. All liability for damages or injuries are the sole responsibility of the client and/or host.
REFUSAL OF SERVICE:
BYA Game Truck reserves the right to refuse service to client if we observe behavior which we deem to be a potential threat to our employees, guests or our equipment. Such behavior includes, but is not limited to, obvious intoxication, observed or suspected drug use, aggressive language or behavior, unsafe surroundings, etc. In this case, we may refuse to start a party or terminate an ongoing event.
TRAVEL SURCHARGE:
We offer free delivery within 15-mile of 4540 Printers Court, White Plains, MD, 20695. We service areas outside of White Plain, MD; however, a fuel surcharge fee will be assessed.
INCLEMENT WEATHER:
The BYA Game Truck was designed for all types of weather conditions. Our mobile game truck is insulated, and climate controlled with heat and air conditioning. In the case of INCLEMENT WEATHER to avoid a turn-around fee of $100.00, please call our office at least 4 hours prior to your event starting time. Once the BYA Game Truck arrives at your event location, the full amount of the rental is non-refundable, even if the event is cut short due to bad weather.
There may be occasions when the weather does not want to cooperate with your scheduled party. In the event of severe weather (lightning, very high winds, flooding and/or extremely heavy rains, snow or ice) we may (and reserve the right to) reschedule your service to guarantee the safety of you, your guests, our staff and the BYA Game Truck. If the threat of these storms threatens your party and you are aware in advance (pending or anticipated snow storm, tropical storm or hurricane) please contact us to reschedule.
ALCOHOL/DRUGS:
You may serve alcohol at your event or party; however, we reserve the right to refuse, cancel or cut short any party or booking when alcohol is being served. Drugs of any sort will not be tolerated in or around the BYA Game Truck.
Any observed use of illegal narcotics or legal narcotics used in an illegal manner will result in the termination of the event/party immediately.
SMOKING:
The BYA Game Truck does not allow smoking in or around our mobile game truck. Please keep any smoking activity away from the game truck.
FOOD/DRINK/GUM/CANDY:
No food or drinks of any kind are allowed inside the video game truck. Please have your guests consume them outside of the game truck prior to entering.
VIDEO GAME RATINGS:
The BYA game truck has games of all ratings and can accommodate many tastes and levels of play. If there are any game restrictions for your event, please advise us at the time of booking. Please understand that you are responsible for confirming that the ratings of the games played at your event are acceptable to all attendees. During a party/event, the Game"ologist" will only take game restriction changes from the Party Host or Hostess. Gather more information on the
ESRB Rating System
.
PICTURES:
While your party is in effect the Game"ologist" may be taking pictures of the party from inside the trailer. If you do not want our Game"ologist" taking pictures or posting them social media, please notify us via e-mail prior to the party.
TIPS:
The game"ologist" is there to make sure that your group is making the most of our high-tech fun. They tutor, inspire and entertain! Tipping for good service is a great idea, but not required.